Defense of Collection Lawsuits (if you have already been sued in court)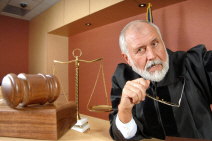 Have you already been sued in court for a debt?  If you do nothing, the court may enter a judgment against you.  After judgment, the court may allow the entity suing you to garnish your wages and bank account, or place a lien on your home.
Just because someone sues you it does not mean that they can get a judgment against you. They still have to prove their case; you can have a trial before a judge or a jury.  You may have a defense to the lawsuit–and possibly your own counter-claim against the party suing you.  You can of always represent yourself.  But, with our help, you may increase the chance of winning and having the court enter a judgment in your favor, ruling that you owe nothing.
Even though you know the facts of your case best, you may be no match for the experienced debt collection lawyers who sued you and who know the law.  We can protect your legal rights and defend you vigorously.  If we accept your case, we will get paid our fees by your opponent, not you.
Court claims of debt collectors and creditors
You may have legal defenses which excuse the debt
You may have the right to to file a counterclaim for the violation of your rights
The amount of the debt or claim does not matter